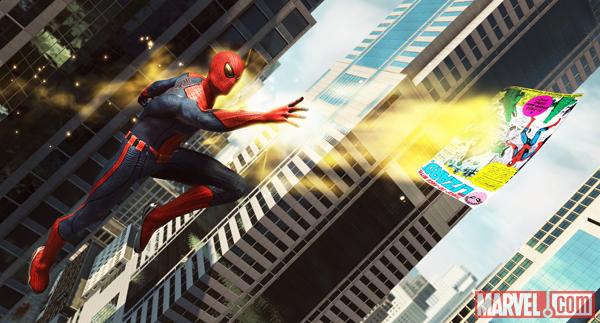 By: Chris Baker, Interactive Manager, Marvel
By now, you're probably well aware that Beenox's The Amazing Spider-Man game, coming June 26, returns the wall-crawler back to a free-roam Manhattan for the first time in four years. Of course, the best thing about this is that web-slinging through the city is only, like, one of the coolest game mechanics ever. But there are other great things that stem from such a gaming landscape – like collecting! Lots and lots of collecting.
But what to collect? In past games, we've had Spidey grab everything from tokens (Spider-Man 2) to spider icons (Web of Shadows). Fun, but not incredibly rewarding at the end of the day. We challenged Beenox to include an actual payoff for collecting hundreds of items strewn about the city – and I have to say, I think they've delivered the most meaningful collectible content in any free-roaming game I've ever played. How so, you ask? In a word: COMICS!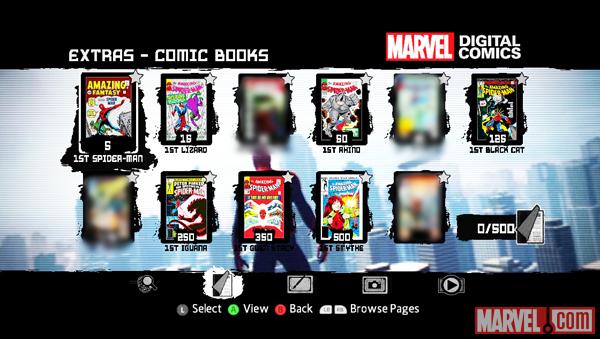 Sure, concept art is pretty (like, really pretty – you'll unlock some of Beenox's masterpieces as well as you play) and comic covers are cool (you can Google any of them right now), but full-length comics are something you just don't see very often. You can unlock as many as 10 comics in ASM (as seen in the comic-selection screen here, 11 if you've taken advantage of the playable Stan Lee preorder), and each has a high degree of relevance pertaining to the characters in the game. In most cases, each boss or ally character's origin issue is included, whether it's as well-known as Spidey's debut in AMAZING FANTASY #15 or as obscure as the introduction of Iguana in THE SPECTACULAR SPIDER-MAN #32.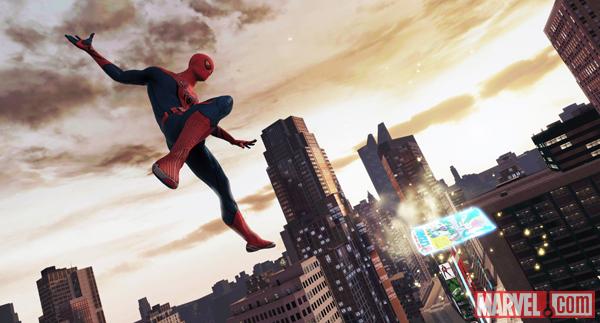 So, here's how it works: As you web-sling (or Web Rush!) your way through the city, you'll encounter hundreds of comic pages like the one beginning this blog entry – not so many so that they're everywhere you look, but definitely enough so that they're very common. Usually, these pages are on building tops, but often you'll actually see them flying around midair. Unless you're exceedingly talented with your standard web-swing (like, incredibly talented), you'll probably find yourself Web Rushing to catch these, then performing a timing-based button press to snag it. It's crazy how addicting this gets.
As you might have figured out from the selection screen above (we've intentionally blurred a few out for now), the issues unlock depending upon how many pages you collect: Five for AMAZING FANTASY #15, 15 for the first appearance of the Lizard, etc. Let's say you've snagged your 250th page, and you want to read Iguana's first appearance. Just select it…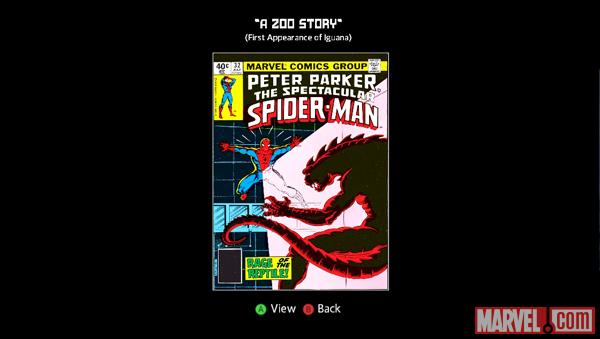 …then hit the A (Xbox 360) or X (PS3) button…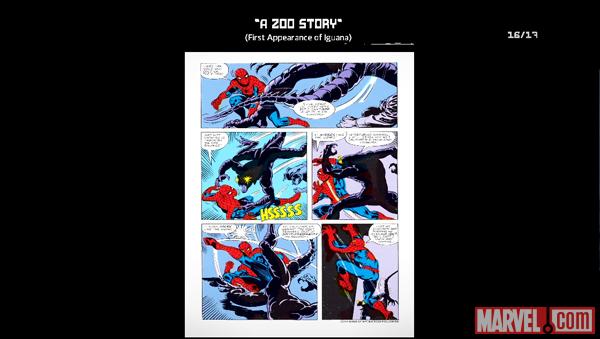 …and you've got the entire issue, right there on your TV screen. You can even…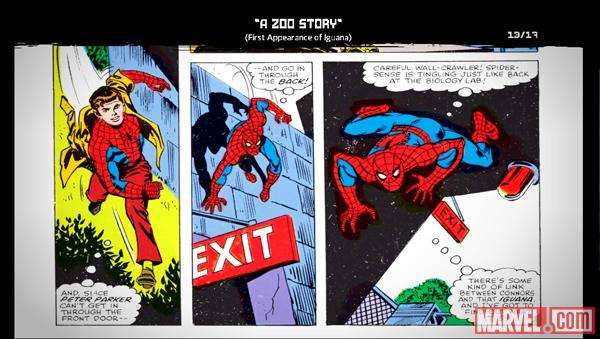 …zoom in! This is where the feature takes full advantage of widescreen HDTVs, and I'm pretty sure it's specifically what Beenox studio head Dee Brown was referring to last month. (Hi, Dee!)
So, there you have it – a couple hundred pages of classic comics, all part of The Amazing Spider-Man at no additional charge. What do you think, True Believers?...
Excelsioryuken!
C-Bake
Follow us on Twitter:
Marvel Games: @MarvelBlip (why Blip? here's why)
Chris Baker: @cbake76