Happy January, Marvel Fans out there!
To kick 2011 off to a good start, I took the chance to "sit down" with Yaya Han for the first Marvel.com Cosplay spotlight. I've known Yaya for almost two years now and I'm always amazed by the costumes she produces. Not to mention the amount of conventions that she and her business attends each year.
It was her Psycloke costume that first drew my attention toward her costumes. I was in awe of the X-Men group that she was a part of and from then on kept regularly checking her site. When we finally had the chance to meet, I came away thinking about how gracious and friendly she was. Since then, we've grown to become friends and even take international trips together. So, with no further ado: Yaya Han.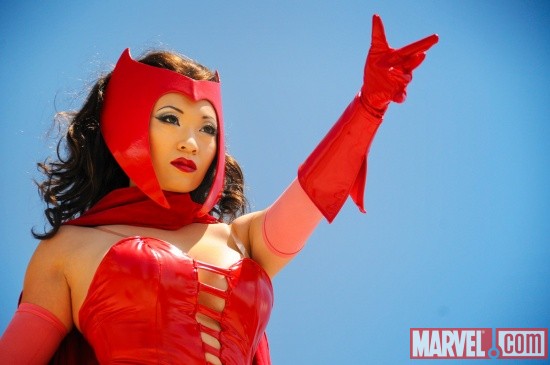 Me: You've got the floor! Introduce yourself to Marvel.com
Yaya: Hello everybody, I'm Yaya Han - a Designer, Costume Maker and Cosplay Entertainer based in Atlanta. What is a Cosplay Entertainer, you ask? Well, I get to dress up as characters from a variety of fandom and travel to conventions all over to help out in programming and entertainment events! What used to be a passionate hobby, crafting costumes, became a lifestyle and a career, and now I spend most of my time designing and making outfits and accessories and doing photo shoots! Or packing. I spend a lot of time packing lol.
Me: How did you get started in Cosplay? And how did you learn to sew and craft your costumes?
Yaya: I went to Anime Expo in 1999 and wore a Kimono for a day. Getting my photo taken and seeing cosplayers portraying some favorite characters of mine really opened my eyes to the world of Cosplay. I didn't know how to sew back then but a friend kindly showed me how to use a sewing machine and read a pattern. Armed with the most basic sewing knowledge, I made my first costume and was completely hooked afterward! Everything I know today, 11 years later, is from experimenting with materials and techniques, and lots and lots of research and practice.
I love challenging myself with each costume project and usually will either perfect a technique, develop a better way of doing the same thing, or learn something entirely new. It's my goal to portray each character to the best of my abilities and I try to get the proportions and silhouette of the costume right, and make it look flattering on my body type. I'm also not afraid to inject my own creativity such as adding texture and layers into a character costume in order to make the transition from 2-D artwork to a believable wearable outfit. Something I always consider is how to convey the feel of a character to a broad audience.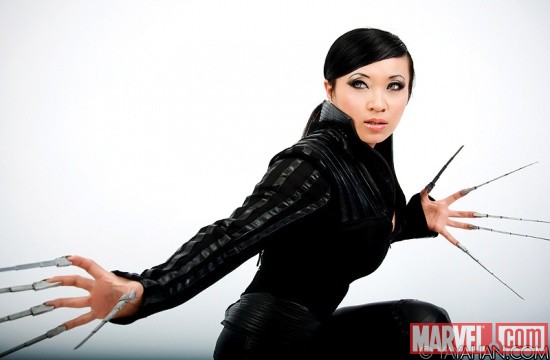 Me: How did the Marvel universe suck you in?
Yaya: I fell under the spell of Marvel Universe through the X-Men series many years ago. Once I discovered the Mutants, it was all over! I love the individual characters and how they all tie in with each other and I really liked the idea of powers being a part of evolution. I watched the TV series and collected whatever comic books I could get my hands on. These days it's harder to keep up with everything that's coming out but I try!
Me: Which Marvel character is your favorite? And which character has been your favorite to cosplay?
Yaya: This will sound so cliché, but it's Wolverine. Ok, and Gambit. Wolverine and Gambit together. LOL. I also love Iron Man and Mystique. As for my favorite Marvel character to cosplay, it's hands down Lady Deathstrike from the "X-2" movie. It's a super comfortable costume and I feel badass in it! The adamantium claws are so much fun to pose with, and everyone at a con wants a fight picture. It's a high energy costume to wear, even though it was quite the pain to pattern out and make. Definitely worth it. I have a couple of future Marvel costumes lined up that I am very excited about, too!
Me: You spend most of the year traveling for your business; what's that like? Also, would you say this is your dream job?
Yaya: I never thought I would be able to make a living cosplaying, so that in itself blows my mind. It is absolutely a dream job and I am grateful for it every day. In the busier summer convention season, I'm traveling to a con practically every weekend, with mad bouts of crafting days in between. It is a fast-paced lifestyle and I've had to get used to working against deadlines constantly, and long road trips and frequent flights.
At conventions I'm usually running from panel to panel or am hidden away in a room or judging the costume contest, or meeting people and selling my hand-made cosplay items at my vendor booth. I dress up in costume every con and do photo shoots when I can, but where I used to line up 2 - 3 outfits per day at events years ago, I only have time to wear 1 per day now. It is an interesting balance between being a fan and cosplaying for fun, and making sure you get the job done and take care of your customers and client - the con. I'll say that this is definitely a stressful job that requires discipline and long hours, but it is so rewarding that I happily work away into the nights!
Check out the Marvel.com Cosplay & Costuming Gallery for more!
Stay tuned for the 2nd (and final) part of the interview.
You can check out more cosplay & costumes from Yaya, plus her online store, over at yayahan.com/
~Judy Out!
Photography by Judy Stephens, Benny Lee & Phoenix Tear
[Edited By Moderator]