A few short weeks ago, I had the pleasure of giving a Marvel HQ tour to some of the amazing folks behind the TV show "Sherlock": star Benedict Cumberbatch and Executive Producers Steven Moffat & Sue Vertue. They were incredibly nice and it was a great visit. Much like when Danny Pudi visited Marvel, Benedict, Steven and Sue found themselves surrounded by fans at Marvel--even signging DVDs for AMAZING SPIDER-MAN writer Dan Slott!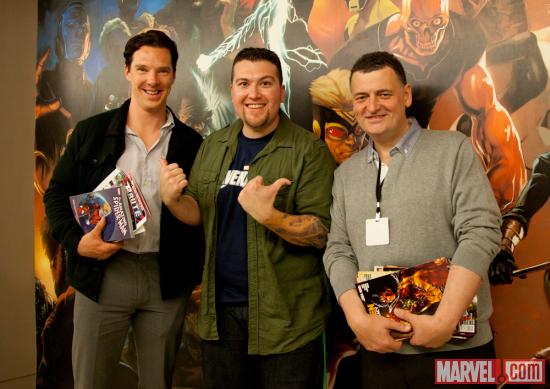 Sherlock Star Benedict Cumberbatch and Executive Producer Steven Moffat with Agent M
I also enlisted the help of Marvel Comics editors Nick Lowe and Jeanine Schaefer to record an episode of our This Week in Marvel podcast with the "Sherlock" crew. That episode will go live on Tuesday, May 22 and you can download it on Marvel.com, iTunes or Zune.
The "Sherlock" U.S. finale airs Sunday, May 20 at 9 p.m. on Masterpiece on PBS. You can also stream episodes of "Sherlock" for a limited time at pbs.org/sherlock. Check out Masterpiece on Facebook and Twitter (#SherlockPBS), and follow @Steven_Moffat and @SueVertue on Twitter. To find out if Benedict Cumberbatch has an official Twitter account, you'll have to listen to the podcast when it's available. :)
Check out more of the photos from their visit, taken by Judith Stephens, below: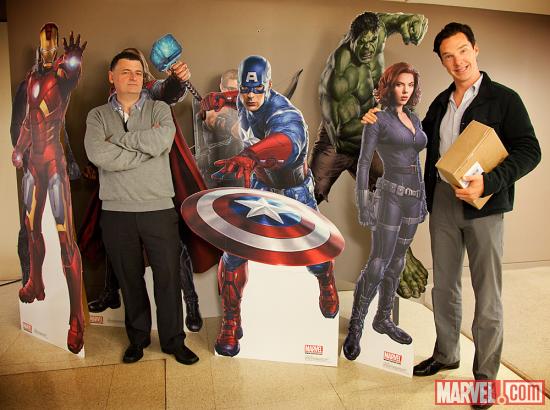 Sherlock Star Benedict Cumberbatch and Executive Producer Steven Moffat posing with the Avengers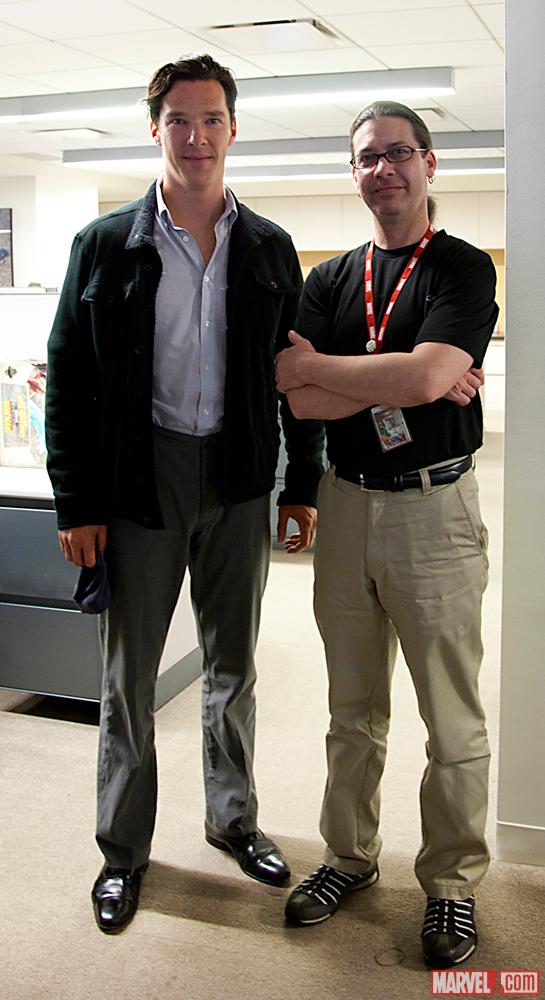 Sherlock Star Benedict Cumberbatch with Marvel Senior Art Director Jeff Suter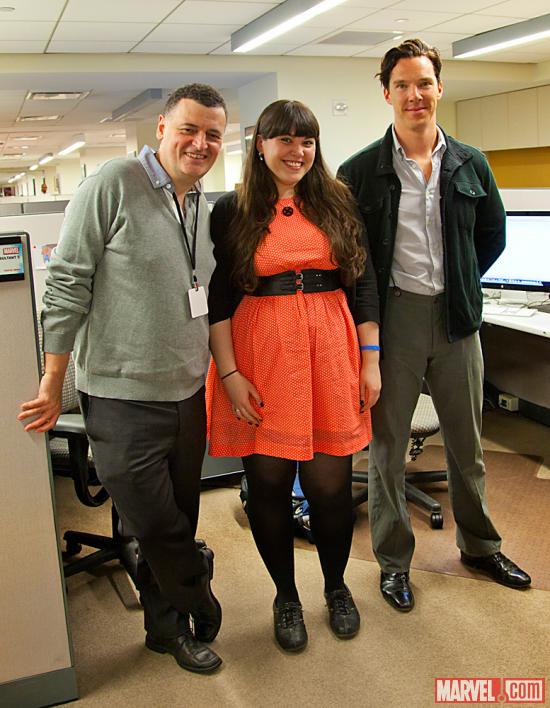 Sherlock Star Benedict Cumberbatch and Executive Producer Steven Moffat with Marvel Social Media Coordinator Janna O'Shea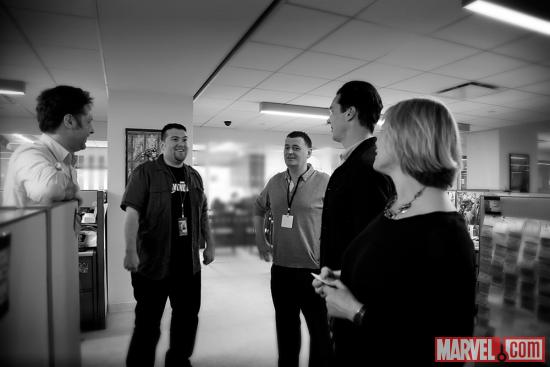 Sherlock Star Benedict Cumberbatch, Executive Producers Steven Moffat and Sue Vertue with Marvel Vice President Pete Olsen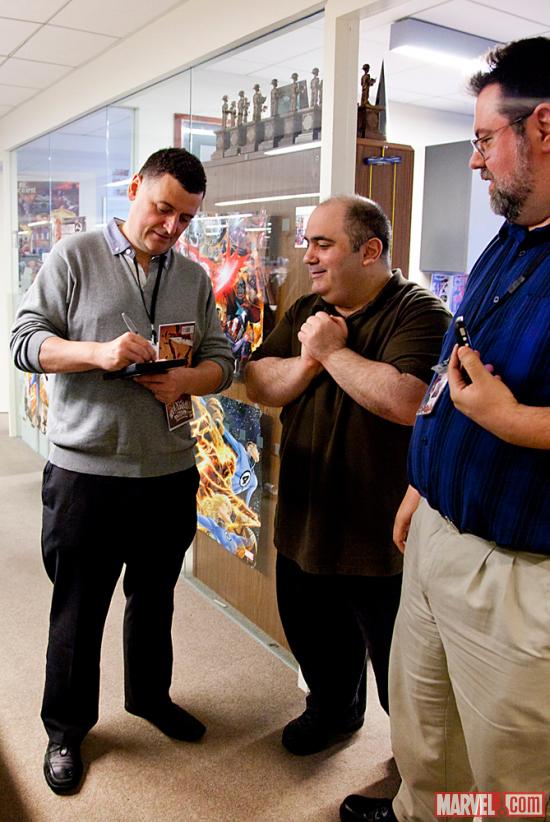 Sherlock Executive Producer Steven Moffat, Amazing Spider-Man writer Dan Slott and Marvel Executive Vice President Tom Brevoort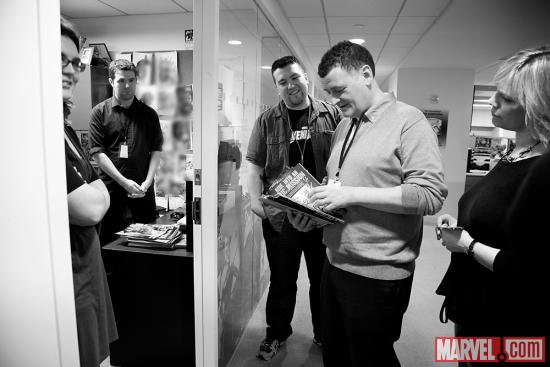 Sherlock Executive Producers Steven Moffat and Sue Vertue with Agent M and Marvel editors Tom Brennan and Ellie Pyle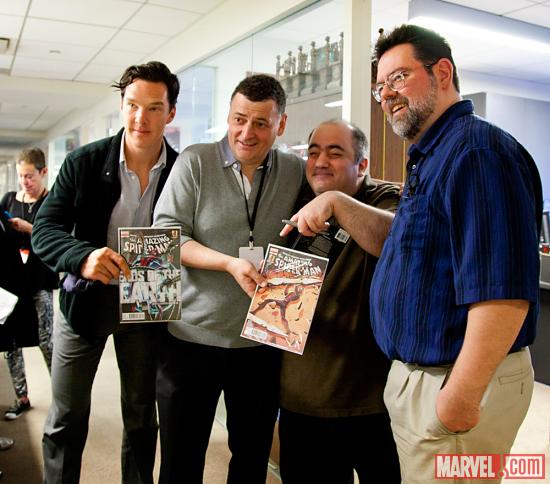 Benedict Cumberbatch and Steven Moffat with Amazing Spider-Man writer Dan Slott and Marvel Executive Vice President Tom Brevoort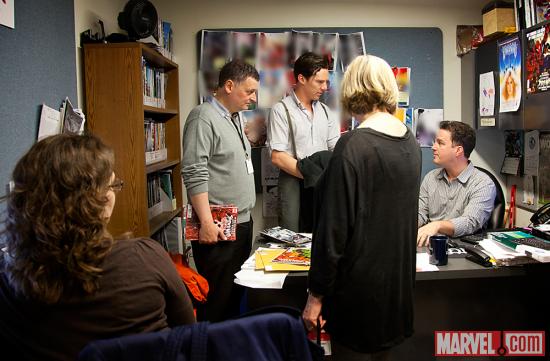 Benedict Cumberbatch, Steven Moffat and Sue Vertue with Marvel Senior Editor Stephen Wacker and editor Ellie Pyle

Sherlock Star Benedict Cumberbatch, Executive Producers Steven Moffat and Sue Vertue with Marvel Senior Editor Stephen Wacker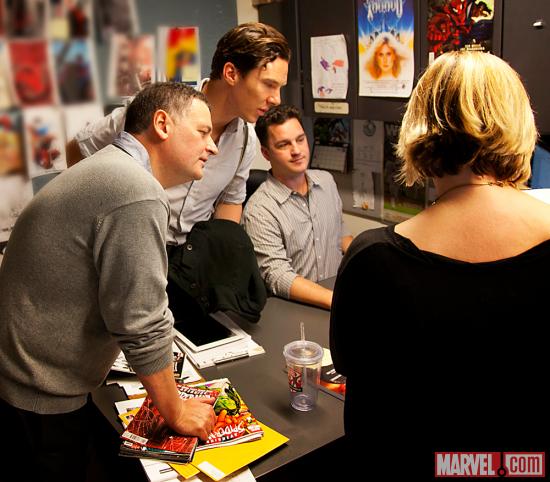 Sherlock Star Benedict Cumberbatch, Executive Producers Steven Moffat and Sue Vertue with Marvel Senior Editor Stephen Wacker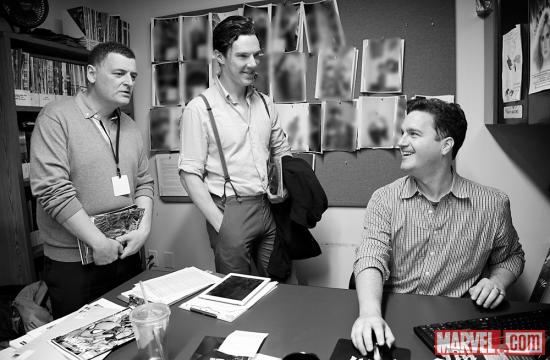 Sherlock Star Benedict Cumberbatch and Executive Producer Steven Moffat with Marvel Senior Editor Stephen Wacker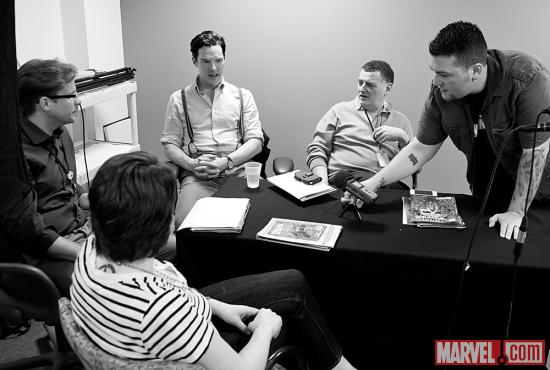 Benedict Cumberbatch and Steven Moffat with Marvel Senior Editor Nick Lowe, Editor Jeanine Schaefer and Agent M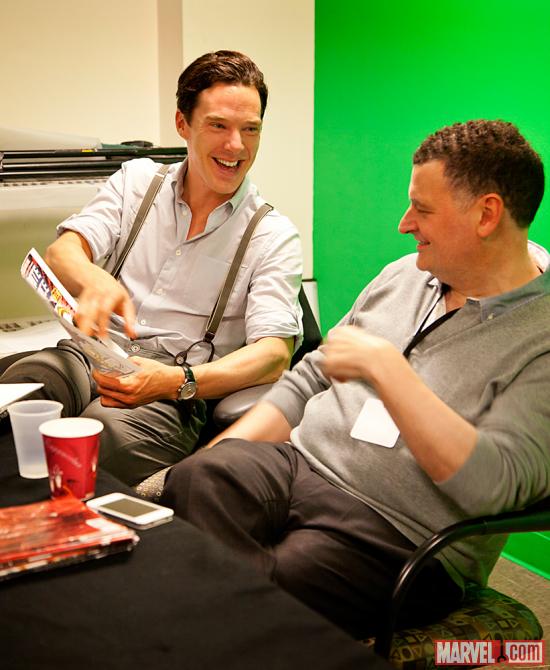 Sherlock Star Benedict Cumberbatch and Executive Producer Steven Moffat during a This Week in Marvel Podcast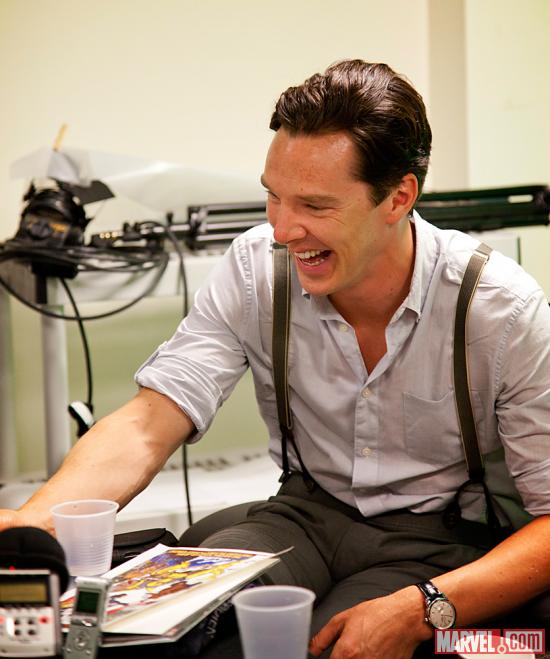 Sherlock Star Benedict Cumberbatch during a This Week in Marvel Podcast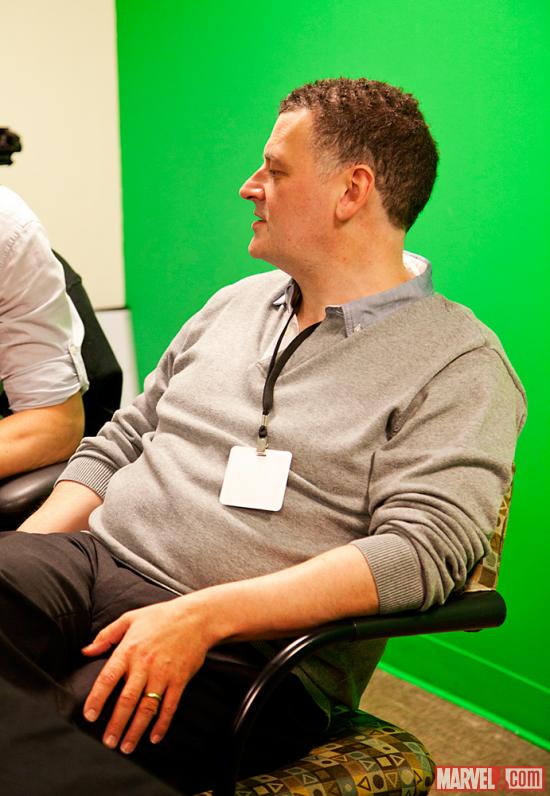 Sherlock Executive Producer Steven Moffat during a This Week in Marvel Podcast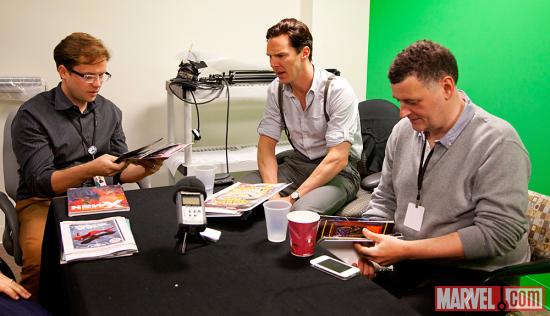 Sherlock Star Benedict Cumberbatch and Executive Producer Steven Moffat with Marvel Senior Editor Nick Lowe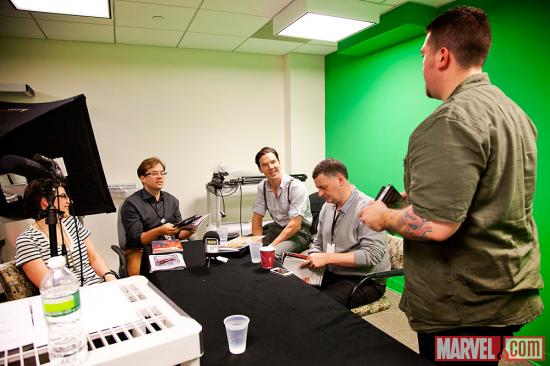 Benedict Cumberbatch and Steven Moffat with Marvel Senior Editor Nick Lowe, Editor Jeanine Schaefer and Agent M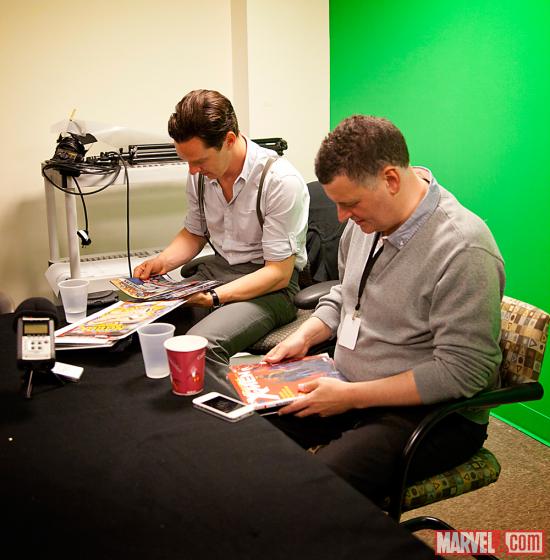 Sherlock Star Benedict Cumberbatch and Executive Producer Steven Moffat during a This Week in Marvel Podcast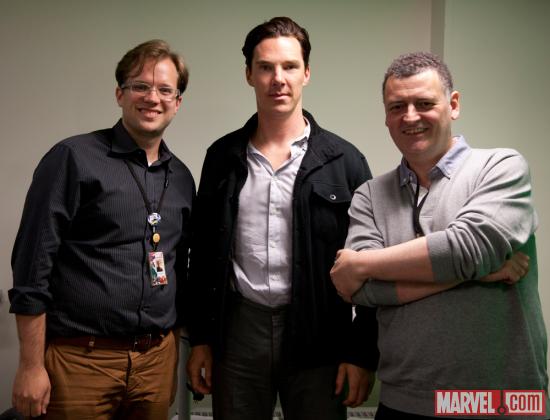 Sherlock Star Benedict Cumberbatch and Executive Producer Steven Moffat with Marvel Senior Editor Nick Lowe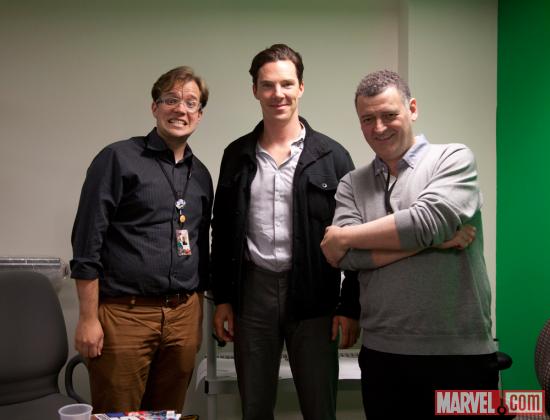 Sherlock Star Benedict Cumberbatch and Executive Producer Steven Moffat with Marvel Senior Editor Nick Lowe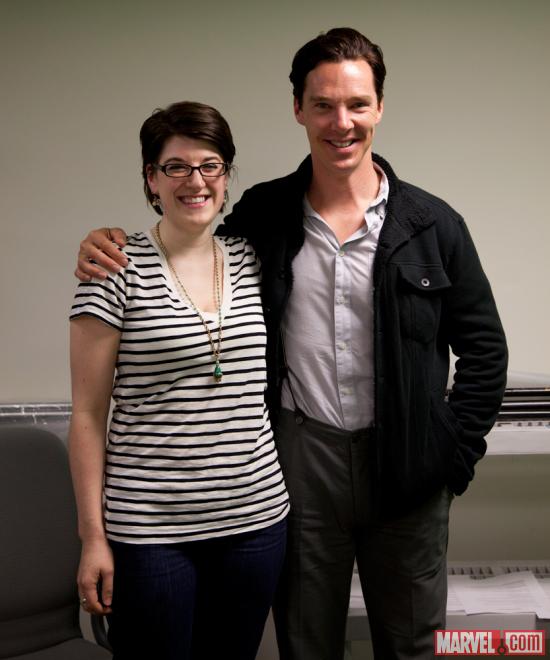 Sherlock Star Benedict Cumberbatch and Marvel Editor Jeanine Schaefer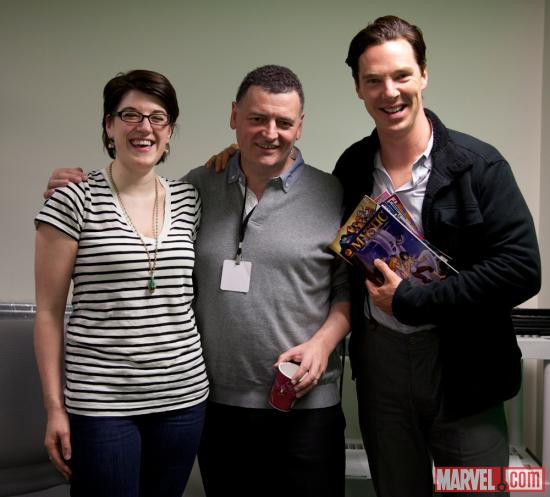 Sherlock Star Benedict Cumberbatch and Executive Producer Steven Moffat with Marvel Editor Jeanine Schaefer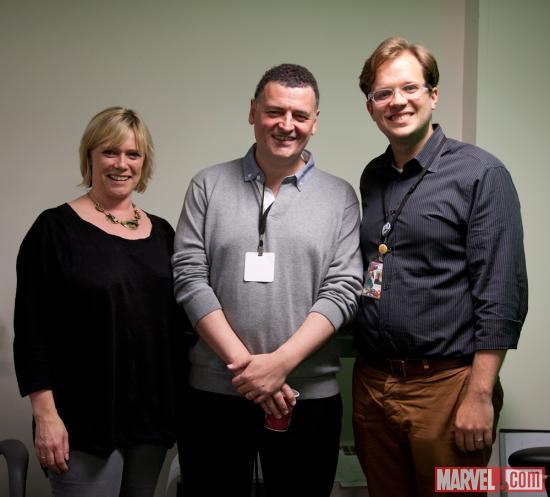 Sherlock Executive Producers Steven Moffat and Sue Vertue with Marvel Senior Editor Nick Lowe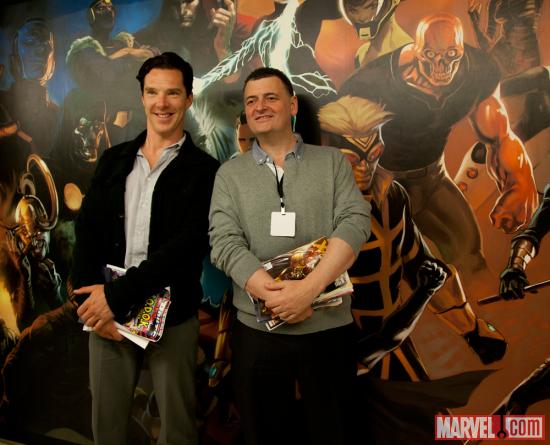 Sherlock Star Benedict Cumberbatch and Executive Producer Steven Moffat at Marvel Headquarters in NYC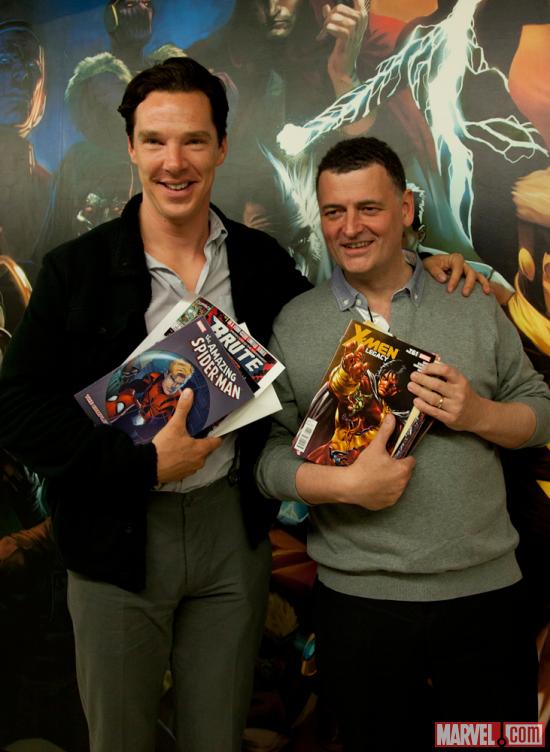 Sherlock Star Benedict Cumberbatch and Executive Producer Steven Moffat at Marvel Headquarters in NYC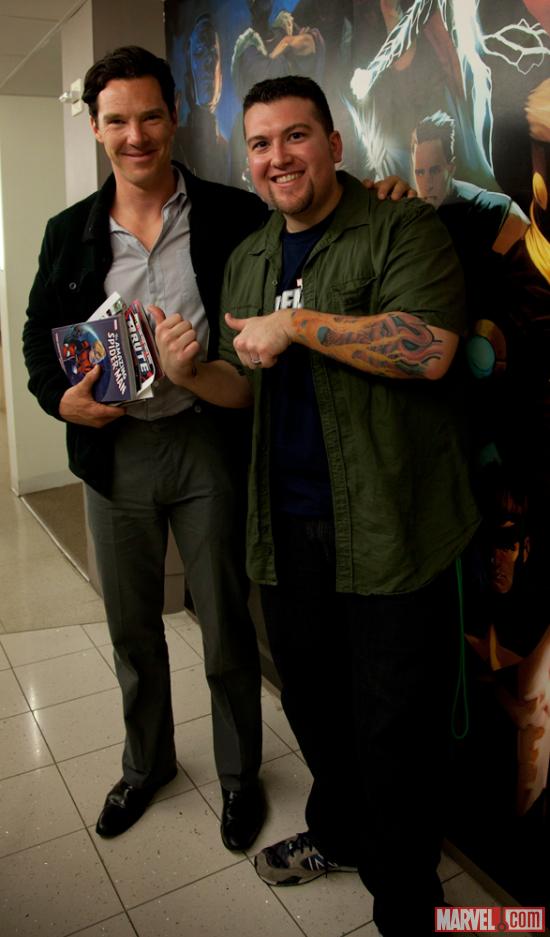 Sherlock Star Benedict Cumberbatch with Agent M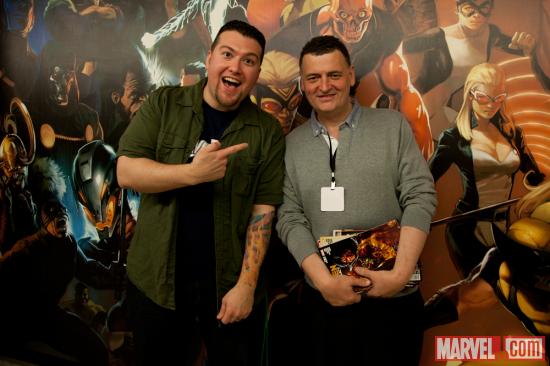 Sherlock Executive Producer Steven Moffat with Agent M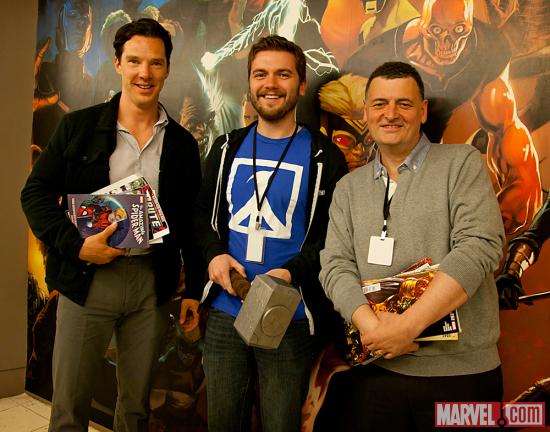 Sherlock Star Benedict Cumberbatch and Executive Producer Steven Moffat with Marvel Associate Producer Blake Garris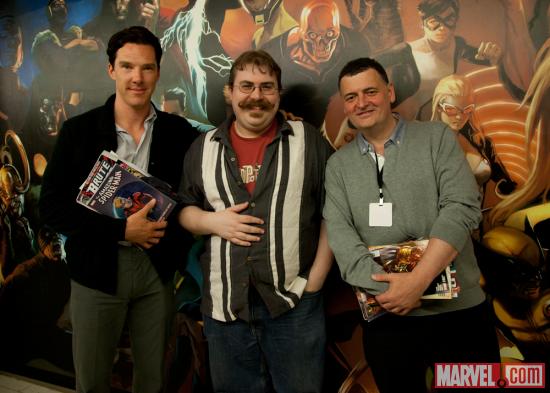 Sherlock Star Benedict Cumberbatch and Executive Producer Steven Moffat with Marvel editor Jordan D. White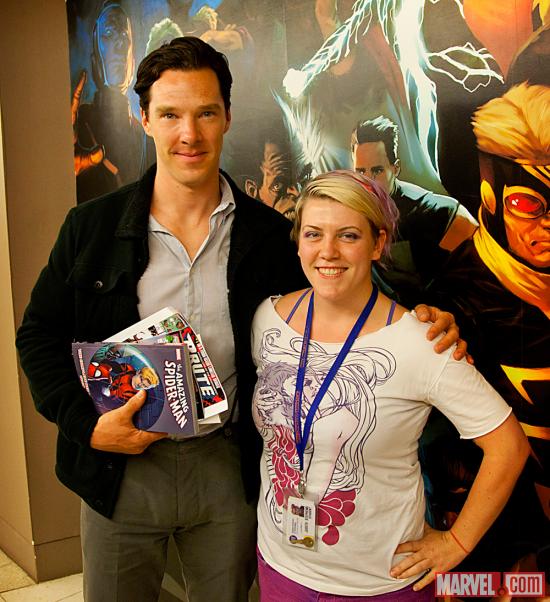 Sherlock Star Benedict Cumberbatch with Marvel Associate Project Manager Judy Stephens

SO MANY PHOTOS! Seriously, they were great. I expect every one of these photos to be all over Tumblr and Twitter within 20 minutes. And that's okay. :)
\m/ \m/
--Agent M
Follow me on Twitter - @Agent_M
[Edited By Moderator]